Looking for a student learning guide? It's in the main menu for your course. Use the "Courses" menu above.
1. Introduction: Energy for Fight or Flight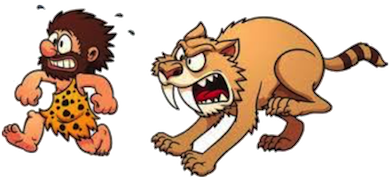 We've all had the experience of being scared.
It might not be as scary as what's shown at right, but you know the effects. Your pulse quickens. Your face feels flushed. The pupils of your eyes dilate. It's called the fight or flight response.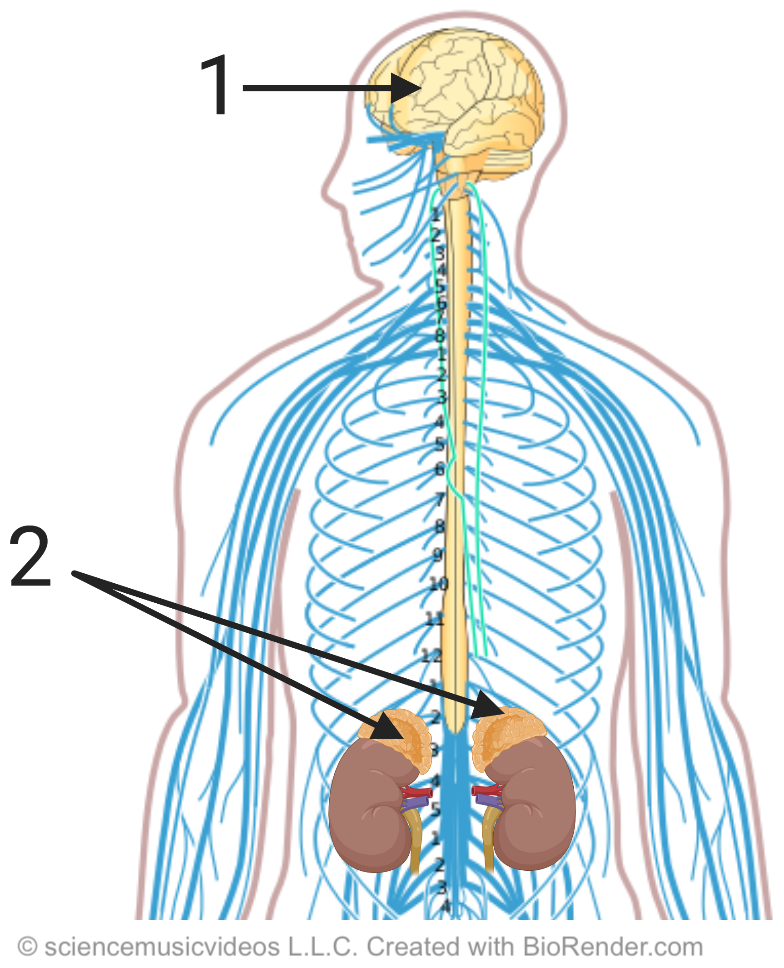 The fight or flight response is the result of nerve impulses and chemical signals that are coursing throughout your body. The adrenal glands (at "2"), responding to a nerve impulse from the brain (at "1"), release a hormone called epinephrine (also known as "adrenaline") which enters the bloodstream and has a variety of effects in different targeted tissues throughout the body.
You might have heard of epinephrine because it's the substance that's loaded inside an EpiPen: an easy to use epinephrine injection device that can be used to counteract a severe allergic reaction known as anaphylaxis. Anaphylaxis can be triggered by bee stings, or by foods or medicines that cause allergic reactions. These allergic reactions can be life-threatening, and include symptoms like hives, swelling of the tongue, asthma, shortness of breath, a weak pulse, dizziness, and shock. Epinephrine counteracts almost all of these symptoms, and a quick injection can be the difference between life and death.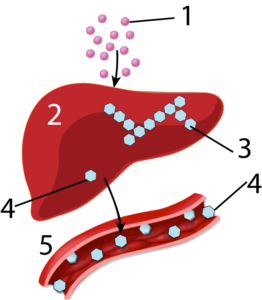 Another target of epinephrine (represented by "1," at right) – and the one that will be our main focus below – is the liver ("2"), where epinephrine induces changes in the activity of liver cells. Among the liver's many functions is to store food energy in the form of glycogen ("3"), a polysaccharide that's composed of glucose monomers chained together. When the body needs a quick shot of glucose to power the contractions of skeletal and heart muscle, the glycogen in the liver can be reconverted into glucose ("4"). In the bottom of the diagram you can see glucose diffusing into the bloodstream ("5"), where it will circulate to the muscles. (Note: click here for a review of polysaccharides and monosaccharides.)
To be able to quickly convert glycogen back into glucose, your liver cells contain a team of enzymes that are synthesized in an inactive form. There they wait until they receive a command, in form of epinephrine, that says: "Break that glycogen down now! The body needs glucose." So, the question that will guide us as we move forward is how do cells that are responding to epinephrine turn those enzymes on? Epinephrine, like all hormones, is a signal. How does this signal work?
2. Cell Signaling: An Overview
Above, I referred to epinephrine as a hormone. A hormone is a substance that is produced in a gland in one part of the body, diffuses into the bloodstream, and then has an effect in targeted tissues elsewhere in the body.
Before we see how epinephrine works, let's take a good look at it.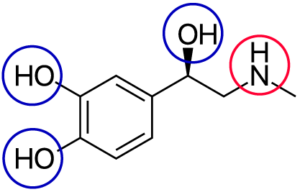 Notice that epinephrine consists of a central carbon ring, with a short hydrocarbon tail attached to it. Connected to the ring itself are two hydroxyl groups (indicated by blue circles), and connected to the hydrocarbon tail is another hydroxyl group and an amine group (circled in red). What's important is that the hydroxyl groups and the amine group are polar, which means epinephrine won't diffuse through the phospholipid bilayer of the cells it comes into contact with.
If epinephrine can't enter into a cell, how can it change the cell's internal processes? A general scheme for how cell signaling works involves three steps, and is shown in the diagram below.
Step I is reception. A signaling molecule such as epinephrine (represented by "1"), binds with a membrane receptor ("2"). Note that in this diagram "a" represents the extracellular fluid (the fluid outside the cell), "b" represents the membrane, and "c" represents the cytoplasm.
The signaling molecule can be referred to in several ways. Biochemically, it's a ligand: a molecule that binds with another molecule. And because that ligand is frequently a hormone, you'll see it referred to as that as well.
Step II is transduction. Transduction is the "process of converting … a message into another form" (Merriam Webster Medical Dictionary). In this case, the original message is the epinephrine that was released from the adrenal glands. After epinephrine binds with the membrane receptor, the cell releases one or more molecules, shown at "3a," "3b," and "3c," that relay the initial message throughout the cytoplasm. As we'll see below, one advantage of such a relay system is that it allows for the initial signal to be amplified, allowing for a quick and vigorous cellular response. "Quick" and "vigorous," of course, is what you need if you're in flight or flight mode.
Step III is response. Often this response involves changing an inactive form of an enzyme into its active form. In the case of epinephrine and liver tissue, we'll see (as mentioned above) how the response involves activation of a team of inactivated enzymes that stand poised to break glycogen down into glucose, releasing glucose into the bloodstream.
In what follows, we'll go into the details of all three of these phases. But now, consolidate your learning with a quiz.
3. Quiz: Introduction to Cell Signaling and Epinephrine Action
[qwiz random="true" qrecord_id="sciencemusicvideosMeister1961-Intro_to_Cell_Signaling (M11)"]
[h]Cell Signaling and Epinephrine Action
[i]
[q dataset_id="SMV_Cell Signalling and Epinephrine action (cell communication)|64009fd682fff" question_number="1″] Which number could be a hormone?
[textentry single_char="true"]
[c]ID E=[Qq]
[f]IFllcy4g4oCcMeKAnSBpcyB0aGUgc2lnbmFsLCBhbmQgaG9ybW9uZXMgYXJlIGxvbmcgZGlzdGFuY2Ugc2lnbmFsaW5nIG1vbGVjdWxlcy4=[Qq]
[c]ICo=[Qq]
[f]IE5vLiBIZXJlJiM4MjE3O3MgYSBoaW50LiBIb3Jtb25lcyBhcmUgbG9uZy1kaXN0YW5jZSBzaWduYWxpbmcgbW9sZWN1bGVzLCBzZWNyZXRlZCBpbnRvIHRoZSBibG9vZCBhbmQgcmVjZWl2ZWQgYXQgb3RoZXIgcGFydHMgb2YgdGhlIGJvZHkuIFdoaWNoIG51bWJlciBjb3VsZCBiZSB0aGUgc2lnbmFsPw==
Cg==[Qq]
[q dataset_id="SMV_Cell Signalling and Epinephrine action (cell communication)|63fb62bbc1fff" question_number="2″] Which number could be the receptor?

[textentry single_char="true"]
[c]ID I=[Qq]
[f]IFllcy4g4oCcMuKAnSBpcyB0aGUgcmVjZXB0b3Iu[Qq]
[c]ICo=[Qq]
[f]IE5vLiBIZXJlJiM4MjE3O3MgYSBoaW50LiBJbiB0aGlzIGRpYWdyYW0sIHdoaWNoIG1vbGVjdWxlIGlzIHJlY2VpdmluZyBhIHNpZ25hbCBmcm9tIG91dHNpZGUgdGhlIGNlbGw/
Cg==[Qq]
[c]IEVudGVyIGxldHRlcg==[Qq]
[f]IE5vLCB0aGF0JiM4MjE3O3Mgbm90IGNvcnJlY3Qu[Qq]
[q dataset_id="SMV_Cell Signalling and Epinephrine action (cell communication)|63f5db1f847ff" question_number="3″] Which number or letter represents the cell membrane?

[textentry single_char="true"]
[c]IG I=[Qq]
[f]IFllcy4g4oCcYuKAnSBpcyB0aGUgY2VsbCBtZW1icmFuZS4=[Qq]
[c]ICo=[Qq]
[f]IE5vLiBIZXJlJiM4MjE3O3MgYSBoaW50LiBJZiAmIzgyMjA7YyYjODIyMTsgaXMgdGhlIGN5dG9wbGFzbSwgd2hhdCB3b3VsZCBoYXZlIHRvIGJlIHRoZSBjZWxsIG1lbWJyYW5lPw==
Cg==[Qq]
[q multiple_choice="true" dataset_id="SMV_Cell Signalling and Epinephrine action (cell communication)|63f09e04c37ff" question_number="4″] Which roman numeral represents reception?

[c]IE k=[Qq]
[c]IElJ[Qq]
[c]IElJSQ==[Qq]
[f]IFllcy4g4oCcSeKAnSByZXByZXNlbnRzIHJlY2VwdGlvbi4=
Cg==[Qq]
[f]IE5vLiBJSSByZXByZXNlbnRzIA==dHJhbnNkdWN0aW9uLiBXaGVyZSwgaW4gdGhpcyBkaWFncmFtLCBkbyB5b3Ugc2VlIGEgc2lnbmFsIGJlaW5nIHJlY2VpdmVkPw==[Qq]
[f]IE5vLiBJSUkgcmVwcmVzZW50cyA=Y2VsbHVsYXIgcmVzcG9uc2U=LiBXaGVyZSwgaW4gdGhpcyBkaWFncmFtLCBkbyB5b3Ugc2VlIGEgc2lnbmFsIGJlaW5nIHJlY2VpdmVkPyA=
Cg==[Qq]
[q multiple_choice="true" dataset_id="SMV_Cell Signalling and Epinephrine action (cell communication)|63eb166885fff" question_number="5″] Which roman numeral represents transduction?

[c]IEk=[Qq]
[c]IE lJ[Qq]
[c]IElJSQ==[Qq]
[f]IE5vLiDigJxJ4oCdIHJlcHJlc2VudHMgcmVjZXB0aW9uLiBXaGVyZSwgaW4gdGhpcyBkaWFncmFtLCBkbyB5b3Ugc2VlIGEgc2lnbmFsIGJlaW5nIHJlbGF5ZWQgYmV0d2VlbiB3aGVyZSBpdCYjODIxNztzIGJlaW5nIHJlY2VpdmVkIGFuZCB3aGVyZSBpdCYjODIxNztzIGJlaW5nIGNvbnZlcnRlZCBpbnRvIGEgY2VsbHVsYXIgcmVzcG9uc2UgKGF0IElJSSk=
Cg==[Qq]
[f]IFllcy4gSUkgcmVwcmVzZW50cyA=dHJhbnNkdWN0aW9uLg==[Qq]
[f]IE5vLiBJSUkgcmVwcmVzZW50cyA=Y2VsbHVsYXIgcmVzcG9uc2U=LldoZXJlLCBpbiB0aGlzIGRpYWdyYW0sIGRvIHlvdSBzZWUgYSBzaWduYWwgYmVpbmcgcmVsYXllZCBiZXR3ZWVuIHdoZXJlIGl0JiM4MjE3O3MgYmVpbmcgcmVjZWl2ZWQgYW5kIHdoZXJlIGl0JiM4MjE3O3MgYmVpbmcgY29udmVydGVkIGludG8gYSBjZWxsdWxhciByZXNwb25zZSAoaGVyZSBhdCBJSUkp
Cg==[Qq]
[q multiple_choice="true" dataset_id="SMV_Cell Signalling and Epinephrine action (cell communication)|63e58ecc487ff" question_number="6″] Which roman numeral represents cellular response?

[c]IEk=[Qq]
[c]IElJ[Qq]
[c]IElJ SQ==[Qq]
[f]IE5vLiDigJxJ4oCdIHJlcHJlc2VudHMgcmVjZXB0aW9uLg==
Cg==[Qq]
[f]IE5vLiBJSSByZXByZXNlbnRzIA==dHJhbnNkdWN0aW9uLg==[Qq]
[f]IFllcy4gSUlJIHJlcHJlc2VudHMgY2VsbHVsYXIgcmVzcG9uc2U=Lg==
Cg==[Qq]
[q dataset_id="SMV_Cell Signalling and Epinephrine action (cell communication)|63dfbcae8e7ff" question_number="7″] Which number represents a ligand?

[textentry single_char="true"]
[c]ID E=[Qq]
[f]IFllcy4g4oCcMeKAnSBpcyB0aGUgc2lnbmFsLiBTaWduYWxzIHdvcmsgYmVjYXVzZSB0aGV5JiM4MjE3O3JlIGxpZ2FuZHM6IHRoZXkgYmluZCB3aXRoIGEgcmVjZXB0b3Iu[Qq]
[c]ICo=[Qq]
[f]IE5vLiBIZXJlJiM4MjE3O3MgYSBoaW50LiBBIGxpZ2FuZCBiaW5kcyB3aXRoIGEgcmVjZXB0b3IuIFdoaWNoIHBhcnQgaXMgc29tZXRoaW5nIHRoYXQmIzgyMTc7cyBiaW5kaW5nIHdpdGggYSByZWNlcHRvcj8=[Qq]
[c]IEVudGVyIGxldHRlcg==[Qq]
[f]IE5vLg==[Qq]
[q dataset_id="SMV_Cell Signalling and Epinephrine action (cell communication)|63da351250fff" question_number="8″] Which number represents epinephrine?

[textentry single_char="true"]
[c]ID E=[Qq]
[f]IFllcy4g4oCcMeKAnSByZXByZXNlbnRzIGVwaW5lcGhyaW5lLg==[Qq]
[c]ICo=[Qq]
[f]IE5vLiBIZXJlJiM4MjE3O3MgYSBoaW50LiBFcGluZXBocmluZSBpcyBwcm9kdWNlZCBpbiB0aGUgYWRyZW5hbCBnbGFuZHMsIGFuZCB0aGVuIGNpcmN1bGF0ZXMgdGhyb3VnaG91dCB0aGUgYm9keSBpbiB0aGUgYmxvb2QsIGFmZmVjdGluZyB0YXJnZXQgY2VsbHMgaW4gbWFueSB0aXNzdWVzLCBpbmNsdWRpbmcgdGhlIGxpdmVyLiBXaGljaCBudW1iZXIgc2hvd3Mgc29tZXRoaW5nIG91dHNpZGUgdGhlIGxpdmVyIHRoYXQgY291bGQgY2F1c2UgYSBjaGFuZ2UgaW5zaWRlIHRoZSBsaXZlci4=[Qq]
[c]IEVudGVyIGxldHRlcg==[Qq]
[f]IE5vLg==[Qq]
[q dataset_id="SMV_Cell Signalling and Epinephrine action (cell communication)|63d35e2f633ff" question_number="9″] Which number represents glycogen, the polysaccharide that gets broken down to glucose after the liver receives the epinephrine signal.

[textentry single_char="true"]
[c]ID M=[Qq]
[f]IFllcy4g4oCcM+KAnSByZXByZXNlbnRzIGdseWNvZ2VuLg==[Qq]
[c]ICo=[Qq]
[f]IE5vLiBIZXJlJiM4MjE3O3MgYSBoaW50LiBHbHljb2dlbiBpcyBhIHBvbHlzYWNjaGFyaWRlLCB3aGljaCBtZWFucyB0aGF0IGl0JiM4MjE3O3MgY29tcG9zZWQgb2YgbWFueSBtb25vc2FjY2hhcmlkZSBzdWJ1bml0cy4gTG9vayBhdCB0aGUgbW9sZWN1bGUgc2hhcGVzIG9uIHRoZSBkaWFncmFtLCBhbmQgY2hvb3NlIHRoZSBvbmUgdGhhdCBsb29rcyBsaWtlIGl0JiM4MjE3O3MgbWFkZSBvZiBtYW55IHN1YnVuaXRzIHRoYXQgYXJlIGJvbmRlZCB0b2dldGhlci4=[Qq]
[c]IEVudGVyIGxldHRlcg==[Qq]
[f]IE5vLg==[Qq]
[q dataset_id="SMV_Cell Signalling and Epinephrine action (cell communication)|63cdd69325bff" question_number="10″] Which number represents glucose?

[textentry single_char="true"]
[c]ID Q=[Qq]
[f]IFllcy4g4oCcNOKAnSByZXByZXNlbnRzIGdsdWNvc2Uu[Qq]
[c]ICo=[Qq]
[f]IE5vLiBIZXJlJiM4MjE3O3MgYSBoaW50LiBHbHVjb3NlIGlzIGEgbW9ub3NhY2NoYXJpZGUgKGEgc2ltcGxlIHN1Z2FyKS4gR2x5Y29nZW4gaXMgYSBwb2x5c2FjY2hhcmlkZSwgd2hpY2ggaXMgY29tcG9zZWQgb2YgbWFueSBnbHVjb3NlIHN1YnVuaXRzLiBMb29rIGF0IHRoZSBtb2xlY3VsZSBzaGFwZXMgb24gdGhlIGRpYWdyYW0sIGFuZCBjaG9vc2UgdGhlIG9uZSB0aGF0IGxvb2tzIGxpa2UgaXQmIzgyMTc7cyBtYWRlIG9mIA==b25lIHN1YnVuaXQsIGFzIG9wcG9zZWQgdG8gbWFueQ==IHN1YnVuaXRzIHRoYXQgYXJlIGJvbmRlZCB0b2dldGhlci4=[Qq]
[c]IEVudGVyIGxldHRlcg==[Qq]
[f]IE5vLg==[Qq]
[q dataset_id="SMV_Cell Signalling and Epinephrine action (cell communication)|63c8997864bff" question_number="11″] A molecule that binds with a receptor (such as "1" below) is most generally known as a

[hangman]
[c]IGxpZ2FuZA==[Qq]
[f]IENvcnJlY3Qh[Qq]
[q dataset_id="SMV_Cell Signalling and Epinephrine action (cell communication)|63c2ec9b68fff" question_number="12″] Number 2 below is a
[hangman]
[c]IHJlY2VwdG9y[Qq]
[f]IENvcnJlY3Qh[Qq]
[q dataset_id="SMV_Cell Signalling and Epinephrine action (cell communication)|63bd64ff2b7ff" question_number="13″] The process indicated by roman number II below is called signal
[hangman]
[c]IHRyYW5zZHVjdGlvbg==[Qq]
[f]IENvcnJlY3Qh[Qq]
[x]
[restart]
[/qwiz]
Links